Topcon GR-5 UHF Base Rover GNSS Galileo
Calibrated, Low hours, Manufacture 2013, still like new in excellent condition Topcon GR-5 GNSS RTK base and rover with Spectra Ranger 3 Data Collector
For sale Topcon GR-5 GNSS RTK Base Rover with Spectra Ranger 3 Data Collector, GPS GLONASS/GNSS - Galileo, Digital UHF GSM/ Modem. Manufacture 2013, been serviced and calibrated by Topcon authorized, ready to working order and works flawlessly
This complete GR-5 UHF Dual base and rover includes everything and ready to work;
2x GR-5 Rover and Base, Internal Digital UHF Radio, GNSS, Galileo
1x Spectra Ranger 3 Controller with Survey Pro software
4x New Batteries
DC Clamp
Chargers
Antennas
All required Cables
Hard Pelican Case
Topcon Carbon Fiber Rover Rod
2 Meter Fixed Height Tripod
Bi pod
Topcon GR-5 Advanced GNSS Receiver (This product has been replaced by the Topcon HiPer HR)
The GR-5 is the most advanced RTK GPS system from Topcon. This exciting system incorporates G3 tracking technology to track all three satellite positioning systems as well as new design features not found in any other system. The latest GR-5 features the multi-constellation 226-Channel Vanguard GNSS chip with Universal Tracking Channel Technology. The GR-5 also includes Topcon's patented Fence Antenna Technology design which offers a compact and lightweight antenna that covers the entire GNSS frequency band for unmatched performance. With Vanguard, Fence Antenna, and Topcon's advanced acquisition algorithms, the GR-5 receiver delivers the most robust GNSS tracking performance available.
Features:
216 Universal Tracking Channels
G3 tracking technology (GPS / GLONASS / GALILEO)
Advanced Fence Antenna Technology - monitoring and unmatched performance, RTK technology sophisticated high precision position updates to 100 Hz
Integrated Dual Communication System with multiple Radio cell combinations
Survey Pro software
32GB SDHC storage media
Dual hot-swappable batteries
Topcon's G3 technology was the first to combine all three of the original positioning systems–GPS, GLONASS, and Galileo. Although commercial use of Galileo continues to be years away, Topcon continues its commitment to develop technology to utilize ALL signals from ALL satellites. Not only is Topcon committed to the GPS, GLONASS and Galileo satellite systems, but also to all precision signals from the developing Chinese COMPASS system, Japan's Quasi-Zenith Satellite System (QZSS), and India's IRNSS system. If there is any operational advantage of combining new systems and signals, you can count on Topcon to continue to lead the industry.
Building from the tremendous success of the world's first G3 RTK receiver, the Topcon GR-3, the new GR-5 provides the latest technological advancements with the same powerful performance our customers have grown to demand.
One look at the new GR-5, and you notice the new, advanced antenna design. This patented Fence Antenna technology provides industry-leading tracking sensitivity and multipath rejection in a compact and lightweight package. By combining this antenna with the latest innovations in tracking algorithms, Topcon has given the GR-5 our most highly advanced tracking performance ever! The GR-5's tracking capabilities are not only state-of-theart, but also deliver unmatched value to our customers by providing accuracy levels superior to other RTK systems in difficult environments. While other systems sacrifice accuracy for tracking performance, the GR-5 gives you the best of both!.
The new GR-5 design didn't stop simply with new antenna and tracking technologies, the GR-5 also boasts numerous advancements such as: an increased number of channels, extended battery life, expanded internal memory options, new internal modem design, and much, much more.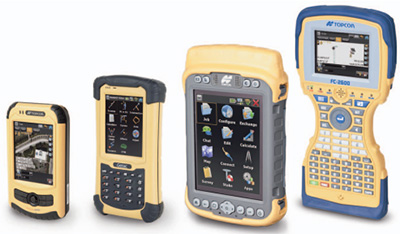 Combine the GR-5 with a Topcon Field Controller
Topcon's FC Series field controllers
Full color touch screen
Graphical Windows interface
Operates the full suite of Topcon field controller software packages
Wireless operation via Bluetooth® connection
TOPCON GR-5 PRIMARY FEATURES